I live close to Levi's Stadium, which means I had the pleasure (misfortune?) of being able to drive for Uber for the Super Bowl! As I detail in another article, I actually had no real incentive to drive and earn more money, but thought it would be ideal to document it for the website and to share a little bit of what it was like during it.
Halftime: Carolina 7 Denver 13
Beyoncé, Bruno Mars and Coldplay finished their halftime show and I decided to hit the road so that I could arrive right around the end of the third quarter. Got my Red Bull, good to go.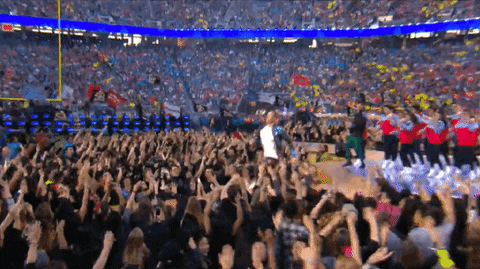 When I showed up, the first thing I noticed was there was a TON of security. TONS. Police trucks, fire trucks, ushers, cones, military (with rifles out) were everywhere and major exits were being rerouted. It was EXTREMELY difficult to get to the designated pickup spot (Uber rented an entire lot to arrange pickups, you could only hail from the app in a designated area), but once I was there I noticed a ton of cars in line. Uber drivers were everywhere, outside, shooting the breeze. Decided to turn on the app and instantly got a ride at no surge. Four women in town for the game (I think they were cheerleaders for the Portland Trailblazers) who wanted to make it to the lovely East Palo Alto, post haste. The roads were empty so I was able to get up and back in ~40 minutes when the surges started to come in.
Try Uber and drive 40 rides and receive $300!
Click here to sign up for Lyft and make additional money! (click here for sign-up requirements based on metro)
At this point, people were starting to come out of the game (midway through the fourth quarter). I told myself that I was waiting for a 5.0x surge before I would turn the app back on.
Surge was at 2.0x but I wasn't going to bite! I put on the game radio and sat and listened as the game ended. Drunk people started pouring out into the parking lot peering into cars, like the T-Rex from Jurassic Park. With my window down, I started to get people asking me directly if I worked for Uber and whether I could give them a ride. I pretty much said I would do it for $100 anywhere which scared them away. I don't think I trusted anyone to pay $100 anyway as I was waiting for the surge.
One of the things I started to realize as I was doing this was that the effect of driving FOR Super Bowl riders was actually the same as driving AROUND Super Bowl traffic. If you look at the traffic above, you can see that the surge was mimicked all over the San José area. Away from the Super Bowl, however, you can probably have less competition for rides and way less traffic. Since all the cars were here in the parking lot at the Super Bowl, I could get the same surges driving with much less traffic further away. Still, I was going to wait.
American Express Blue Cash Everyday Reward Card
Card Pros
Sign-up bonus of $100 when spending $1,000 in the first 3 months
No Annual Fee
Solid cashback for groceries and gas

I decided to bite the bullet and take a ride. One of two things could happen: I could be taken all the way up the peninsula to a Silicon Valley area/San Francisco hotel or I could be taken east toward San José. The first one would be a big payoff but then I would need to snake my way all the way back down and probably not catch another surge. The second one (which I preferred) would be to get a short ride at 2.5x surge and then I could theoretically jump back into the zone for 2-3 more rides at a decent surge. My rider was of the second variety and wanted a ride east to a hotel in Milpitas (two sad Carolina Panthers fans who were overwhelmed by the crowd being 4:1 for the Broncos). The ride was short and sweet, able to get them to their hotel in 15 minutes for $22. Not bad. I put the app back on and immediately accepted a new ride at the same 2.5x surge only a mile away. While waiting for the left turn to pick up my riders, four people sprinted across 4 lanes of traffic and jumped in my car as the left turn light turned green in front of me. Well, that's a way to pick up the passengers and piss off everybody behind me.

 If I had waited another ~12 minutes, I might have received a higher surge, but I still received a decent surge.
As I performed the U-turn that Waze commanded, red and blue flashing lights came on behind me. Apparently, I performed a moving violation by allowing my passengers to sprint across traffic and jumping in my car unannounced and uninvited. He looked me over, realized I wasn't drunk and sent me on my merry way. I have a lot of empathy for the cop's position: he needs to ensure there is no drunk driving on one of the major events and any unusual activity is a magnet for it. As I drove them to their apartment (Marriott Downtown San José, this time FOUR drunken, sad Carolina Panthers fans), I noticed cops and DUI checkpoints everywhere. Good on them. The ease and accessibility of public transportation, Uber/Lyft/Cabs has never been easier so I have very little sympathy for those who choose to endanger themselves and others.
I decided that was it for the night and decided to head home. Three rides, ~$85, ~2.5 hours. Not much better than my average rate at all, but hopefully the story was worth it.
Advertiser Disclosure: Some of the offers that appear on this site are from third party advertisers from which RewardBus receives compensation. RewardBus attempts to display a wide array of offers for our members, but offers do not represent all financial services companies or products.